For many years, coaster enthusiasts have debated how to rank the various Six Flags parks. The company currently owns 25 properties in total, with 15 of those being theme parks and 10 of them being separate water parks. We have decided to give our opinions on the main 15 parks in the chain. The stand-alone water parks will be covered in a future article.
Want to stay up to date with our latest theme park plans, reviews, and more? Be sure to follow us on Instagram @Limitless_Park and subscribe to the Limitless Park Youtube Channel!
15. Frontier City, A Six Flags Theme Park
Frontier City in Oklahoma City, OK was originally owned by Premier Parks/Six Flags until 2006. Six Flags then dropped the park, and re-acquired it last year. The small park is home to an old Arrow Lightning Loop now called "Diamondback", a classic wooden coaster named "Wildcat", a Schwarzkopf coaster "Silver Bullet", and a couple other supporting roller coasters. Overall, the park is pretty lacking when it comes to anything amazing and can't put up much of a fight against all the other parks in the chain. Still, it's definitely a decent family park.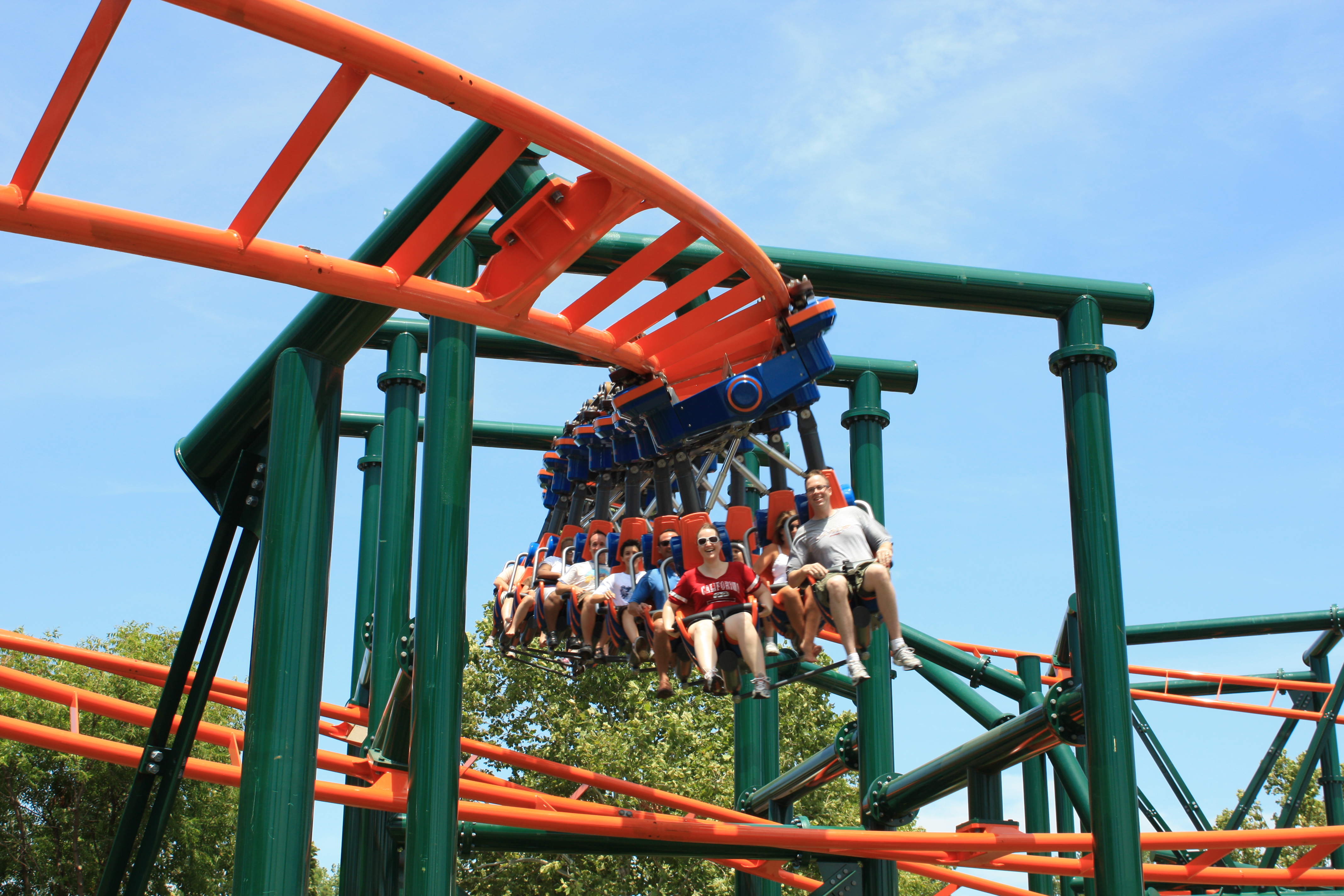 14. The Great Escape, A Six Flags Theme Park
Great Escape is a small theme and water park outside of Glens Falls, NY in Lake George. It is home to "The Comet", which is a PTC woodie that usually ranks as one of the better wooden coasters out there. They also have "Alpine Bobsled", one of the remaining bobsled roller coasters in the US. People constantly label this park as the runt of the Six Flags litter, and while it still does have some charm, it's pretty easy to see why. Outside of Comet and a nice waterpark, the park doesn't really have anything outstanding to offer.
13. La Ronde, A Six Flags Theme Park
La Ronde doesn't have the best reviews, but we'll give it the benefit of the doubt. It is in a nice city on a nice island and it has poutine, so it's okay. Six Flags does need to step up its operations though. It is home to "Goliath" which is a B&M Hyper, and a huge wooden coaster "Le Monster" that's apparently never open. Also, La Ronde has a Star Flyer named "Vol Ultimine". This ride can give breathtaking views of Montreal and the surrounding cities. La Ronde has some tiding up to do, but it looks to be an okay park. It's definitely at the bottom of the Six Flags barrel though.
12. Six Flags Darien Lake
This charming park is located between Rochester and Buffalo, NY. It is home to an Intamin hyper coaster named "Superman: Ride of Steel" ( a mirror image of Six Flags America's Superman), a Gurstlauer Euro Fighter named "Tantrum", and some other very Six Flags-esq rides like a Vekoma SLC and a Vekoma Boomerang. Darien Lake also boasts a Hotel, Campgrounds, Water park, and a Preforming Arts Center operated by Live Nation. This is one of 2 resorts in the Six Flags chain, the other being Six Flags Great Escape Resort in Lake George. This was definitely a nice park for Six Flags to re-acquire in 2018.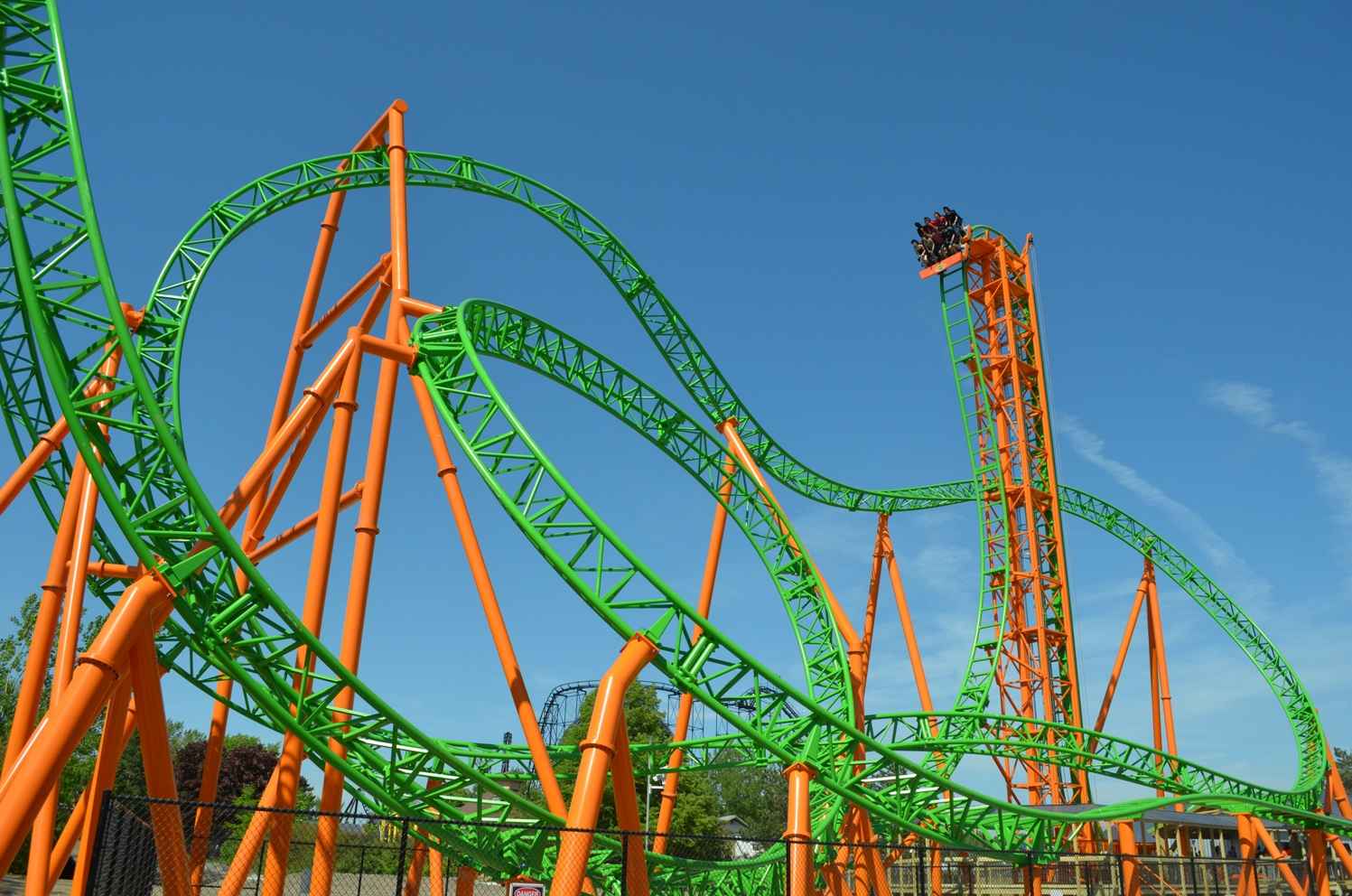 11. Six Flags St. Louis
Six Flags St. Louis (formerly Six Flags over Mid-America) is located in (you guessed it) Eureka, Missouri. It is home to the launch coaster "Mr. Freeze Reverse Blast", the wooden coaster "American Thunder", another wooden coaster named "The Boss " and one of the original Hurricane Harbors. This park also is home to Superman: Tower of Power and a SkyScreamer. The common complaint for this park is that it doesn't really have a standout coaster, and we agree with that. It has a really good lot of supporting coasters, and some above-average wooden coasters, but there isn't a "star attraction" that makes you feel like you need to visit Six Flags St. Louis.
10. Six Flags Discovery Kingdom
Six Flags Discovery Kingdom and its sister park Six Flags Hurricane Harbor Concord is located in Northern California, near San Francisco. The theme park is in Vallejo and the water park is in Concord. Discovery Kingdom is home to "Medusa" a B&M Floor less, "The Joker" an RMC Hybrid, and a few other coasters. Similar to St. Louis, this park really lacks a stand-out coaster that easily draws enthusiasts to the park. Sure, it has an RMC, but it's often considered one of the weakest RMC's out there. Since the park has an 150 foot height limit, they have to really get creative with what they add. They also received new roller coasters in 2018 and 2019, and have a small wild mouse coming soon.
9. Six Flags America
People rat on Six Flags America for being a terrible park, but truth be told it's not that bad at all. The operations, from personal experience, aren't nearly as bad as some people say. All Six Flags parks have their bad days when it comes to operations, and America isn't much worse than, let's say, Great America (again, from personal experience). As far as coasters go, the park has a small but varied line-up including an Intamin hyper coaster, a Vekoma flying coaster (now the best Vekoma flying coaster since Firehawk was removed), a Premier launch coaster, a B&M floorless coaster (used to be a Stand-Up), two wooden coasters (although Roar sucks), and a few more supporting coasters. Even the theming is decent in different parts of the park, like the DC area or the entrance plaza. America is definitely far from the best park in the Six Flags chain…but it really deserves more credit than it gets.
8. Six Flags Over Georgia
Six Flags Over Georgia was the second Six Flags park. This park is located outside of Atlanta, GA. It is home to a B&M hyper named "Goliath", a cloned invert "Batman: The Ride", an RMC coaster Twisted Cyclone, a Schwarzkopf looping coater named "Mindbender", and 2 great children areas named DC Super Friends and Bugs Bunny Boomtown. DC Super-friends is more family friendly than kiddie-area with Flying Scooters and a medium sized drop tower (think Kisses Tower at Hersheypark). It also has "Acrophobia", a standing drop tower and a super loop called The Joker Chaos Coaster. Overall, the park has a well-rounded lineup of things to do. The reason it's not higher up on this list is that other parks simply have better versions of certain types of coasters at Over Georgia.
7. Six Flags Mexico
Six Flags Mexico is located outside of the capital of Mexico, Mexico City. This might be a hot take, but we believe this park is definitely one of the better Six Flags theme parks. It is home to a Morgan-Chance hyper coaster named "Superman: El ultimo Escape", an RMC Hybrid called "Medusa: Steel Coaster", and the new for 2018 S&S 4D Free spin called "Wonder Woman Coaster". They also have a few other supporting coasters to round out their lineup, a decent flat ride collection, and a lot of well-themed areas that make the park look more appealing than your average Six Flags park. Sadly, this park doesn't rank higher because it is kind of barebones when it comes to the amount of other rides they have. For instance, they have 9 coasters total, and 4 of them are family/thrill coasters. On top of that, at least 4 of their coasters are clones. The only real stand out ones are Medusa and Superman, and while those are impressive coasters, they're not enough to warrant it being higher on this list.
6. Six Flags Over Texas
Six Flags Over Texas is the original Six Flags theme park, and therefor there is a lot of unique charm that you can't find at some other parks in the chain. Home to Titan, a Giovinolla Hyper coaster and New Texas Giant, the very first RMC hybrid. The park also hosts a nice supporting lineup including "The Joker" and a cloned "Batman: The Ride". To compliment, it also has thrilling flats like "Texas SkyScreamer" (the third tallest SkyScreamer after the New England Skyscraper) and "Harley Quinn: Spinsanity. Overall, this park tends to be dismissed as one of the lower mid-tier parks in the chain. However, due to the history it holds and an arguably above average coaster lineup, we're giving Over Texas a bit of a higher placement on our list.
5. Six Flags Fiesta Texas
This park is the only real "theme" park in the Six Flags chain. Fiesta Texas is home to areas like Fiesta Bay Boardwalk, Crack axle Canyon, Rockville and a Spanish themed Main Street. From theming alone, the park is very well off. As far as coasters go, they have a top-tier RMC that interacts with the quarry wall named "Iron Rattler", a floorless coaster named "Superman: Krypton Coaster", and one of the RMC raptor prototypes named Wonder Woman Golden Lasso Coaster. Due to having both an RMC raptor and hybrid coaster, this is actually the only park in the world to have two RMC coasters. It also has a decent amount of supporting coasters, a SkyScreamer, an S&S Tower "Scream" (Scream is also at New England), and a Super loop "Fireball". There's a lot to love about this park, but we personally prefer a few other Six Flags parks over this one.
4. Six Flags New England
Six Flags New England has really moved up the ranks in Six Flags parks over the past few years. It attracts visitors from Boston, Providence, Albany and New York, so it also gets a large enough amount of crowds to warrant it as a top-tier park. New England is home to some awesome roller coasters like the Intamin Hyper "Superman: The Ride" and the insane RMC hybrid "Wicked Cyclone". Rounding out its lineup are coasters like the floorless coaster Batman: The Dark Knight, two Vekoma boomerangs (one is giant), an old but fun wooden coaster Thunderbolt, and a few others. The park also contains the world's 2nd tallest swing ride titled "New England SkyScreamer" that reaches over 400 feet. Another nice perk to the park is that it includes a huge Hurricane Harbor (included with your ticket!) with numerous slides and water attractions. Finally, what really wraps this park up in a nice little bow is the subtle theming. It's nothing on Disney levels, but the colonial entrance plaza and DC area house more theming than your average theme park. Six Flags New England has definitely become
3. Six Flags Great America
Six Flags Great America is a strange park in that it counts as one of the three "top tier" Six Flags parks, but no one really talks about it that much. Out of those three parks though, it's pretty clear to see why Great America is ranked the lowest. Sure, the park has an expansive line up of coasters including an RMC wooden coaster, a B&M hyper coaster, the only B&M wing coaster in the Six Flags chain, and a LOT more (the park actually has 15 coasters as of 2019), but it could be argued that there are better versions of each coaster elsewhere in the U.S. For instance, the B&M hyper Raging Bull may be a flagship attraction at the park, but it's often considered one of the weakest hyper coasters in existence. The same can be said for the Goliath, the RMC. Don't get us wrong, Great America is still an awesome park with an incredible amount of stuff to do (so much so that you'll definitely need more than 1 day). That said, just because it has a crazy amount of variety and quantity of attractions doesn't mean it has the best attractions to offer of any Six Flags park. It does have a pretty impressive top three though in Maxx Force, Raging Bull and Goliath.
2. Six Flags Magic Mountain
A lot of people rat on Magic Mountain for having nothing but roller coasters, but this simply isn't true. Overall, Magic Mountain is a fantastic theme park that has almost as much variety as other parks in the Six Flags chain. Just because people only talk about the coasters doesn't mean that they don't have anything else to offer. The park has the second tallest drop tower in the world, a pendulum ride, a rapids ride, a log flume, a few more thrilling flat rides, some decent family flat rides, and a good amount of kiddie rides. The layout and presentation of the park is also pretty spectacular. The whole entire park is filled with hills, and, while that can be frustrating if you're not in shape, it makes for some gorgeous views of different coasters in the parks (this might be the most picture-esq Six Flags park). And as far as the coasters go…wow. For one, the park has more roller coasters than any other theme park. This already lends to an impressive amount of variety. On top of that, it's not just a bunch of so-so coasters. There are barely any duds in Magic Mountains lineup, and it's mostly filled with excellent coasters such as Twisted Colossus, Tatsu, X2, and the new for 2019 West Coast Racers. Some of us at Limitless Park would have liked to see this park as number 1, but overall there was one other park that came out on top…
1. Six Flags Great Adventure
This is pretty debatable (especially since we had some big disagreements amongst everyone at Limitless Park), but we're going to place Six Flags Great Adventure at the #1 spot. Home to the tallest coaster in the world "Kingda-ka", a world class wooden coaster "El Toro", one of the best B&M hyper coasters named "Nitro", and a good amount of other supporting coasters (albeit a majority of them are clones). Coasters aren't the only thing this park offers though, as it also has plenty of thrilling flat rides and things for the family to do together. For instance, one of the unique attractions at the park is Six Flags Wild Safari, which is a safari where you can go on an outback adventure seeing different animals of the world right in New Jersey. That is a really awesome experience that can't be found at too many other theme parks in the U.S. As far as flat rides go, it only takes one look at the thrill rides page on their website to determine that they have an impressive lineup that all other Six Flags parks will have a tough time competing against. You can definitely make the argument that Six Flags Magic Mountain (or even Great America) is a better park than this, but we've decided that Great Adventure's impressive variety and above average coaster lineup places it at the top of our list.
. . . . .
Want to stay up to date with our latest theme park plans, reviews, and more? Be sure to follow us on Instagram @Limitless_Park and subscribe to the Limitless Park Youtube Channel!
Have a question for Limitless Park? Visit our Contact Info page to get in touch!
Andrew Krivsky's Instagram (Editor): @krivsky.ac
Thanks for Reading!