5 Year Plans are a staple in the coaster community. Everyone enjoys giving their predictions for what rides and attractions will be arriving at their favorite theme parks in the coming years. I've personally wanted to make one of these for my home park, Six Flags Great America, for quite some time now. I feel like I know the park well enough now to give some more educated predictions than most, so hopefully these will come off as more realistic than just wishful thinking. As with any sort of predictions post on this website though, just because I want something to happen doesn't mean it actually will. Let's kick this off with 2020.
2020
I won't spend too much time on this year, because I already touched on it in the 2020 Predictions and Announcements post, but for 2020 I think that Great America should add a new waterpark expansion. I think the best addition for the waterpark would be a water coaster, but it could also be a new slide complex or a larger raft slide. Hurricane Harbor is a great waterpark, but it really needs some love during the 2020 season.
2021
In 2021, I think Great America should definitely receive a nice flat ride. Since the park's topspin, King Chaos, was removed in 2017, I think the park is definitely missing an intense spinning ride. Therefor, I think they should add a Tourbillion flat ride like Cyborg Spin at Six Flags Great Adventure. Although they're really just a glorified top spin, they still look like fun rides and are certainly eye candy for the general public. Since Great America is pretty landlocked and pressed for space, they would probably need to remove a ride in order to add this. I think ripping out the old Ricochet flat ride in Southwest Territory would give them enough space.
2022
By 2022, the park's most recent coaster, Maxx Force, will be turning 3 years old. Since Great America is a top-tier Six Flags park and draws in large Metropolitan crowds, I think its fair to expect that the park will receive a new roller coaster in 2022, even if they don't deserve it. The coaster would most likely have to be pretty compact, which is why I think a Gerstlauer Eurofighter (or Infinity Coaster) would be a fitting addition. In order to add it, I think the park would have to remove the Buccaneer Battle water ride. That's okay though, since nobody rides it anyways.
2023
If 2022 is a big coaster year, then 2023 will hopefully be more relaxed. I propose two smaller "additions" for the park, if I can call them that. The first would be an overhaul of their Camp Cartoon kiddie land. They don't need to necessarily add any new rides, but if they could redo the theming to feel more up to date, perhaps by using a DC Super Friends or Looney Tunes (if Six Flags still has access to the IP) theme. The other thing I would like to see Great America add is some sort of new nighttime spectacular show. The park just added Block Party this year as an end-of-the-night show, but since Great America's entertainment is consistently ranked as one of the best in the chain, I feel like they could do something more "expensive" looking (i.e. better costumes, fireworks, maybe even costumed characters).
2024
For our final year in the 5 year plan, I would like Six Flags to add a record-breaking sky-screamer. The current tallest sky-screamer is a 400 ft. tall one at Six Flags New England, so I think they could break this record by a good 25-50 feet. The ride wouldn't require an enormous footprint ether, so I think they could install it by ripping out a smaller flat ride with low attendance, or even Sky Trek Tower if they had to.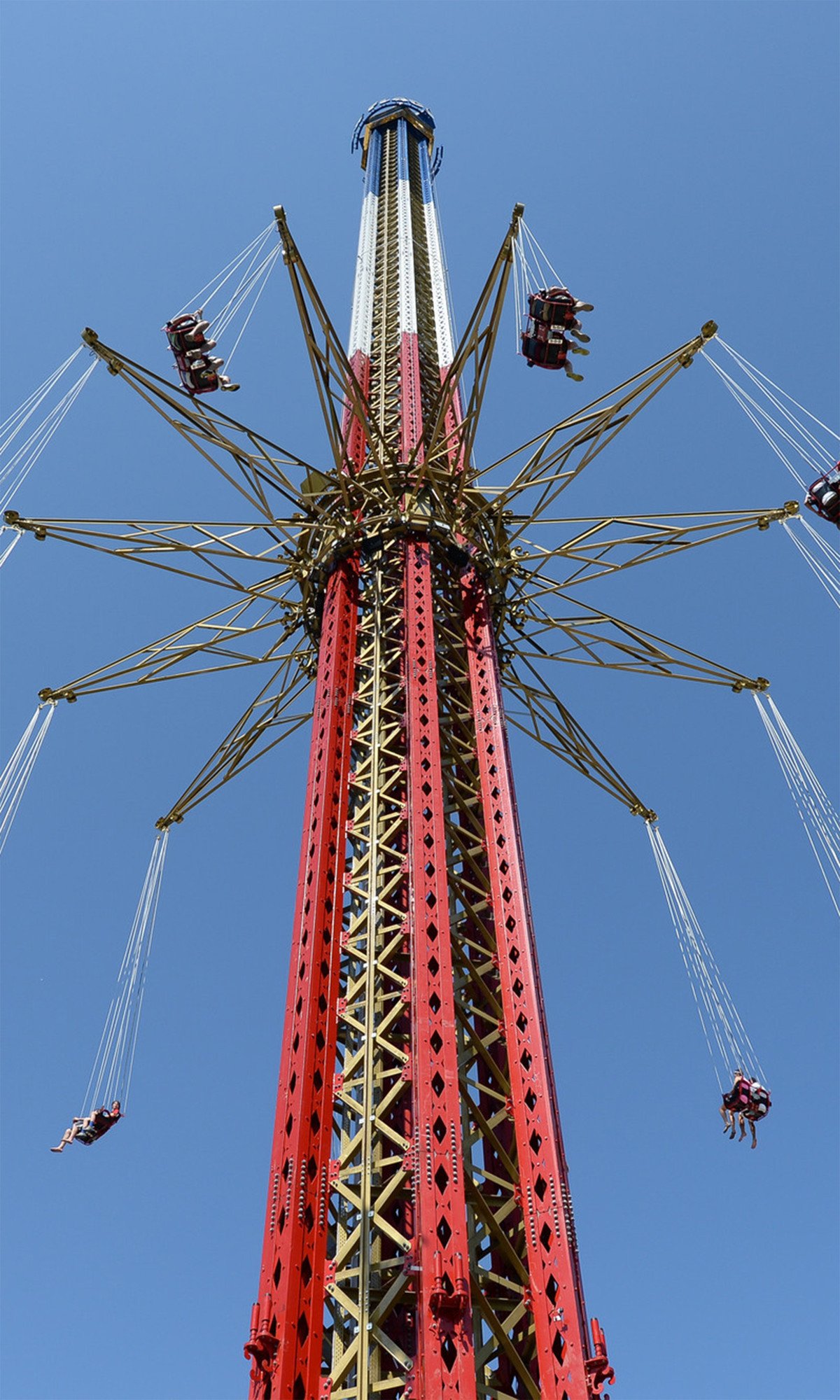 That's my 5 year plan for Six Flags Great America. Feel free to let us know what you think Great America's 5 year plan should be down in the comments!
. . . . .
Want to stay up to date with our latest theme park plans, reviews, and more? Be sure to follow us on Twitter @limitless_park and Instagram @Limitless_Park!