2020 is almost over, and…good riddance. Most theme park goers were unable to travel this year due to the ongoing pandemic, and even if they were able to visit a park, chances are there wasn't anything new to ride. COVID-19 isn't just going to disappear as soon as we ring in the New Year, but the promise of a vaccine arriving soon gives us hope that by the time summer rolls around, a majority of theme parks will be open.
With those theme parks come rides—a surprising amount of them new. Some theme parks have attractions that they planned to open in 2020 but were pushed back, others have completely new experiences that were scheduled for the 2021 season. Here are ten must-do attractions coming in 2021:
10. The Secret Life of Pets: Off the Leash! – Universal Studios Hollywood
Universal's new ride based on the Secret Life of Pets franchise was supposed to open up the week that everything started shutting down for the pandemic. What's super interesting about this ride is that, unlike most of Universal's recent dark rides, it's not screen-based. The attraction will feature an impressive 64 animatronics based on characters from the film, and if there are any screens on the ride, they will be nicely blended into the set design.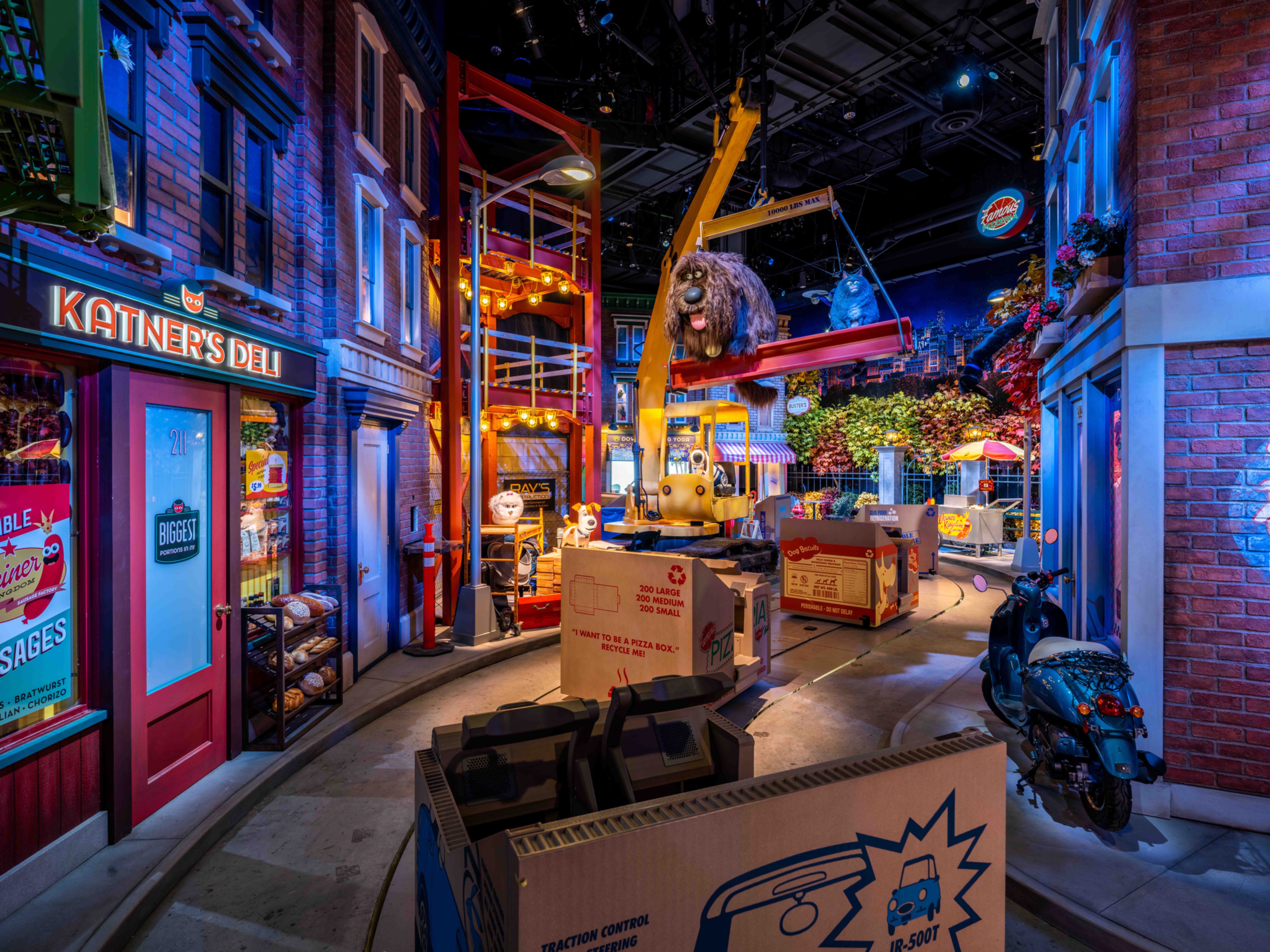 9. Stunt Pilot – Silverwood Theme Park
Silverwood is a small theme park in Idaho that happens to be extremely close to the headquarters of popular coaster manufacturer Rocky Mountain Construction. It was only a matter of time before the park would get an RMC of their own, and in 2021 it's finally happening. Silverwood will be receiving a sleek-looking RMC Raptor, which will have the same layout as Wonder Woman Golden Lasso Coaster at Six Flags Fiesta Texas and RailBlazer at California's Great America. Although that means it won't be the most unique roller coaster out there, the extremely positive reviews of the other clones means that Silverwood will almost surely have a hit on their hands with Stunt Pilot.
8. Remy's Ratatouille Adventure – Epcot
Remy's Ratatouille Adventure is another ride that was initially supposed to open in 2020 (and its definitely not the last on this list). The trackless dark ride is pretty much a clone of the one found at Walt Disney Studios in Disneyland Paris, but that's not a bad thing. Ratatouille is one of the most popular rides at Walt Disney Studios, and it will definitely be the most popular at Epcot. The ride combines larger-than-life props and sets with giant screens to tell a bite-sized story based on the Ratatouille movie. While the Paris ride exits into a fancy French restaurant, the version at Epcot will exit into La Crêperie de Paris, which is a sit-down/quick service hybrid crêperie.
7. Triple Loop – Indiana Beach
Indiana Beach arguably had the weirdest 2020 of any theme park. It was announced in February that they were closing forever, then a couple months later they were purchased and re-opened. Now, they've announced that for the 2021 season they are opening a Schwarzkopf triple looping roller coaster that they bought from a park in Mexico. The coaster has a rough history, as it was poorly maintained and suffered multiple problems. An accident in 2019 that killed 2 riders has some calling it a "death coaster," which might cause some to be wary of riding. However, if Indiana Beach can restore and maintain it properly, it will most certainly become the flagship roller coaster at Indiana Beach.
6. Pantheon – Busch Gardens Williamsburg
When SeaWorld Entertainment announced that all five of its parks would receive a new roller coaster in 2020, Busch Gardens addition seemed to garner the least attention. Obviously, Pantheon has been pushed back to 2021, but people still doesn't seem to be acknowledging it that much. The Intamin Blitz Coaster will feature four launches, two inversions, a 95 degree drop, and it will go backwards. If that doesn't sound like a fun roller coaster, then nothing does.
5. Jersey Devil Coaster – Six Flags Great Adventure
This is the second RMC Raptor to make this list, except this one has a custom layout. This monster of a ride looks like it could be the best coaster at Great Adventure, and one of the best RMCs in the world. It will stand at a height of 130 degrees and feature three inversions: a zero-G stall, a dive loop, and a zero-G roll. As is the case with the other RMC Raptors, Jersey Devil will also feature plenty of airtime moments that will "eject" riders out of their seats.
4. Lego Factory Adventure – Legoland New York
It's always exciting when a new theme park opens, but what's even more exciting is when a theme park with a trackless dark ride opens. Legoland New York is just that. The Lego Factory Adventure attraction will make riders feel like they have been shrunken down to the size of a Lego mini-figure. Vehicles will meander throughout different rooms in the Lego factory and see many colorful and exciting set-pieces. Due to the nature of the trackless vehicles having varied paths, Lego Factory Adventure will be very re-rideable. It's pretty rare for a theme park that's not Disney to add a ride like this, so it's very exciting that Legoland New York will break that trend.
3. Iron Gwazi – Busch Gardens Tampa
The third and final RMC to make this list, Iron Gwazi will be the tallest, fastest and steepest hybrid coaster in North America. The official POV for the coaster was released about a month ago, and it looks like absolute madness. With a height of 206 feet and a 91 degree angle of decent, it could have the best drop of any roller coaster on Earth. It will also feature two inversions (no, the over-banked curve doesn't count), a dozen airtime moments, and a top speed of 76 mph. Some coaster enthusiasts are speculating that it could over-take Steel Vengeance as the widely accepted "best roller coaster in the world." Iron Gwazi has far fewer elements than Steel Vengeance, so it will be interesting to hear what the consensus is once the Gwazi opens.
2. Web Slingers: A Spider-Man Adventure – Avengers Campus
Phase 1 of Disney California Adventure's new land, know as Avengers Campus, will feature one new ride when it opens: Web Slingers: A Spider-Man Adventure. This new interactive shooter-style dark ride attraction will allow riders to shoot webs just like Spider-Man. New recruits who board the attraction will help capture runaway Spider-Bots, which are some sort of small robotic creatures that are supposed to assist Spider-Man. Not too much is known about what else will happen in the ride, but a brand-new ride based on the famed comic. book character is enough to get excited.
1. Jurassic World VelociCoaster – Universal's Islands of Adventure
This brand-new Intamin multi-launch coaster has been turning heads ever since construction started earlier this year. Universal was incredibly quiet about its existence for a while, despite the obvious track being built all over the park's Jurassic World area. As the year went on, the ride's layout was completed and it started testing. The videos that show the sleek, electric blue trains flying throughout the winding track are absolutely jaw-dropping. It's hard to pick out what might be the best part of the ride, as the two launches, 155 ft. top hat, 100 ft. long zero G stall, and barrel roll over the water are serious contenders. Jurassic World VelociCoaster has the potential to the best launch roller coaster, the best ride at Universal Studios Orlando, and the best roller coaster in Florida. That's why we think it's the number one U.S. attraction to look forward to in 2021.
. . . . .
Want to stay up to date with our latest theme park plans, reviews, and more? Be sure to follow us on Instagram @Limitless_Park and subscribe to the Limitless Park Youtube Channel!
Have a question for Limitless Park? Visit our Contact Info page to get in touch!
Andrew Krivsky's Instagram (Editor): @krivsky.ac