There are plenty of U.S. theme park attractions to look forward to in 2022, but what about everywhere else in the world? In this article, we'll explore 5 exciting new attractions coming to international parks in 2022. Be sure to let us know which one you're looking forward to most in the comments below!
5: Wandering Oaken's Sliding Sleighs – Hong Kong Disneyland – China
This new family roller coaster will be part of a larger expansion known as Arendelle: World of Frozen. Disney excelled with their previous Frozen attraction, Frozen Ever After at Epcot. Since that was just a re-theme of a previous outdated attraction, it's easy to assume that an original attraction such as Wandering Oaken's Sliding Sleighs will be an improvement on a solid first attempt. This will also provide the park with a much needed family roller coaster, since it's three other roller coasters are slightly more intense.
4. Jumanji – Gardaland – Italy
One of Italy's premier theme parks is getting a ride based on the Jumanji franchise, specifically the new films starring Dwayne Johnson. It will be the first time this franchise has ever shown up in a theme park, and it seems like it's in good hands with Gardaland. The ride seems to be some sort of dark ride, and while it might not be the most intense ride out there, I'm sure it will offer plenty of thrills for guests of all ages.
3. Leviathan – Seaworld – Australia
I remember writing an article about this ride earlier in the year. It must've fallen to the familiar fate of being postponed due to the pandemic, but that just means it's another roller coaster to look forward to in 2022! Leviathan is a Gravity Group wooden roller coaster that will be one of the few to exist in Australia. Roller coasters are scarce in the country to begin with, so it's nice to see a large addition coming to a lesser known theme park there.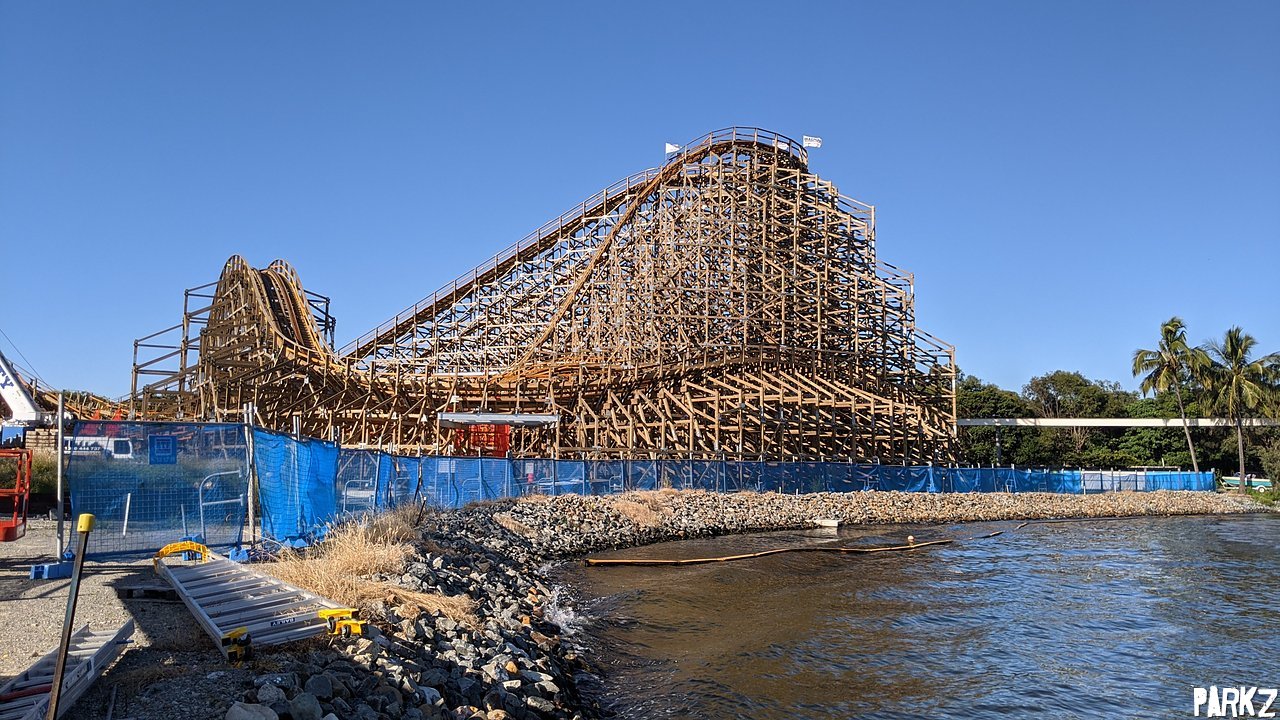 Also, the last car on the train will face backwards. I'm all for providing riders with multiple experiences to increase the time spent enjoying a ride, so I think it's great that Seaworld is giving guests this option. It also means Australia will now have two roller coasters with cars that face backwards–the other being DC Rivals Hypercoaster at Warner Bros Movie World.
2. Storm – Dubai Hills Mall – U.A.E.
This coaster is still a big mystery, but that's what makes it so exciting. When Storm opens, it will be the largest indoor roller coaster…apparently. I say apparently because it's still up for debate what this ride even is. All we know for certain is that it's an Intamin launch roller coaster inside a giant dome. The launch will be a vertical LSM launch, similar to something like Wicked at Lagoon. Since so much of this is left to the imagination right now, it's fun to speculate what the rest of the layout might be like. Will it have lots of inversions? Will it be similar to Xcelerator at Knott's? Only time will tell.
1. Marvel Themed Roller Coaster – Walt Disney Studios Park – France
Walt Disney Studios Park at Disneyland Paris will be receiving a version of Avengers Campus in 2022. While the land will be similar to the one at Disney's California Adventure (with it's own WEB Slingers ride and Pym Test Kitchen), it will also have a unique roller coaster. The ride will supposedly be themed to Iron Man and will be a re-skin of the park's Rock n' Roller Coaster ride that closed in 2019.
Disney has had it's fair share of Marvel-themed rides in recent years. Some have been hits, such as Guardians of the Galaxy: Mission Breakout, and quite a few others have been misses (Ant Man and the Wasp: Nano Battle and WEB Slingers, for instance). It will be interesting to see which category this new roller coaster falls into. With the original layout of Rock n' Roller Coaster as the backbone, I think it will end up in the former!
MORE FROM LIMITLESS PARK
HAVE A QUESTION FOR LIMITLESS PARK? Leave a comment below or visit our Contact Info page to get in touch!
CHECK US OUT ON SOCIAL:
Facebook – Twitter – Instagram – YouTube